Hello Friends. The weather is warming up and it means more time to sit on the patio. This week the fairies have put together some ideas for patio accents. They have chosen four fairy sized items that would look nice in a fairy garden and four human sized items for your patio. You can also put your fairy garden on your patio if you'd like. Make sure to visit Teelie's Fairy Garden often for updates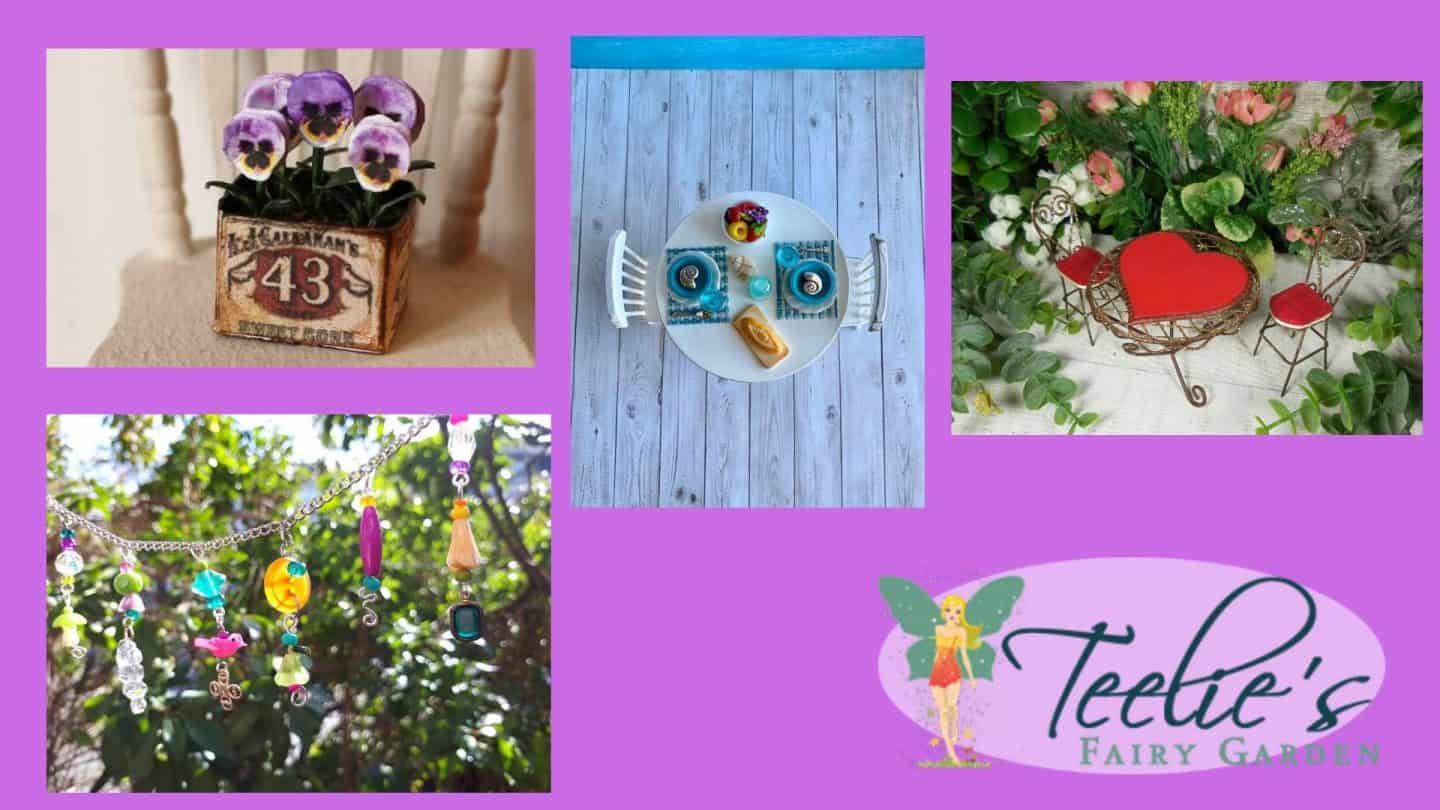 Fairy  Sized Items
Pretty Pansy Planter
A little decorative pansy planter can be a great fairy garden accent. Pansies are so pretty too. They look like they are smiling. You can find this planter and its pansies on Etsy.
Beach Themed Patio Décor
Your fairy garden could also use some really cute beach themed patio décor. This miniature set includes a table, chairs and miniature food and dishes. It is adorable and the fairies would be happy to live in a garden with such beautiful accessories. You can find this set on Etsy.
Fairy Garland
Add some magic to your fairy garden with an inspiring candy rainbow fairy garland. Rainbows are a symbol of hope and so are the fairies making this a great option to bring happiness to your fairy garden. The garland is available on Etsy.
Romantic Patio Set
This romantic patio set with a heart shaped bistro table and cushioned chairs is full of color and love. It would make for a wonderful date spot as your fairy friends enjoy an outdoor meal or barbecue under the stars. You can find it on Etsy.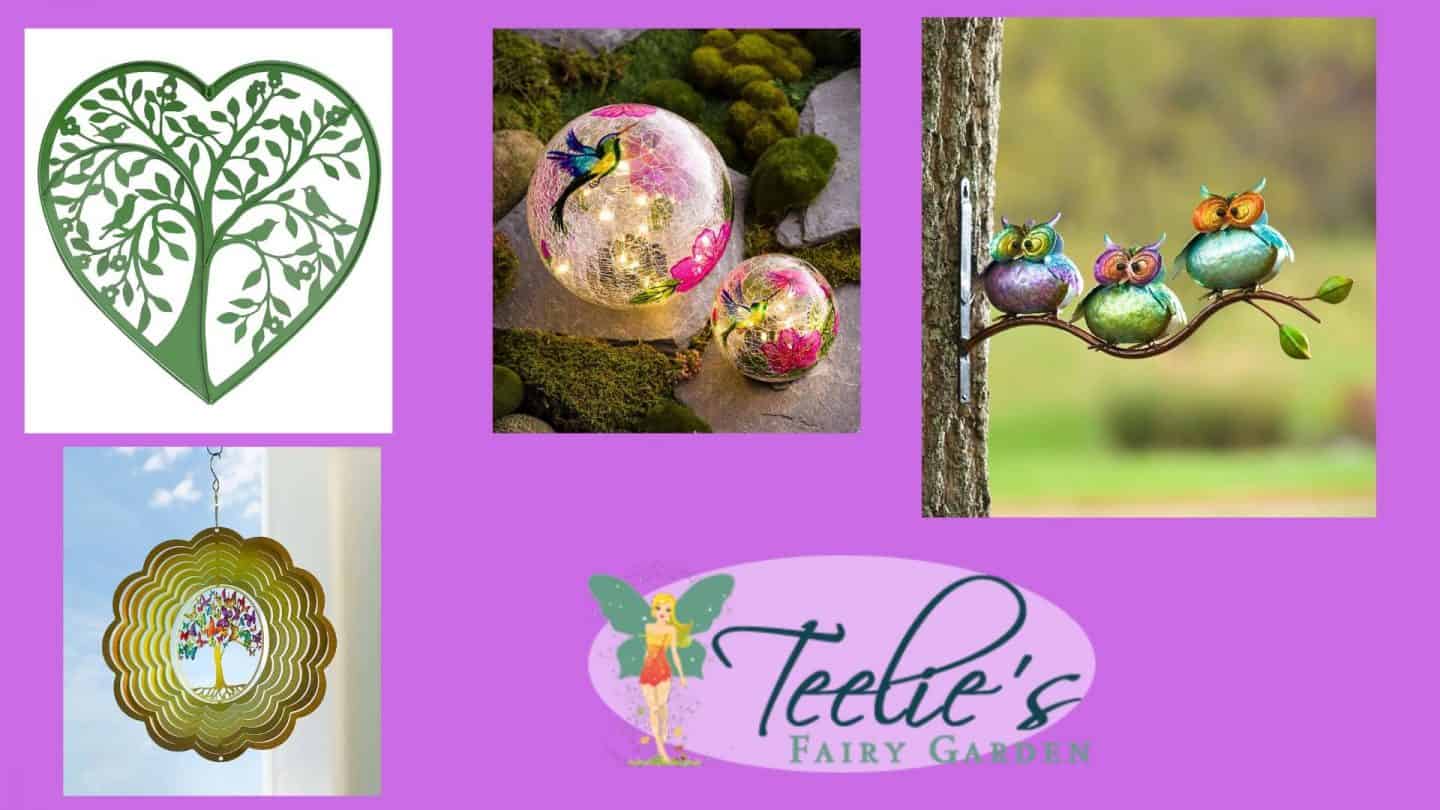 Human Sized Items
Lovable Wall Art
Choose wall art to go on your patio that will make you feel happiness every time that you look at it. This amazing heart tree with a few birds on its branches will do just that. You can find it on Plow and Hearth.
Solar Globes
Solar globes are a beautiful way to add some decorative joy to your patio. This set of two crackle glass solar globes has a gorgeous hummingbird pattern. They are wonderful for an evening out on the patio. They are available on Plow and Hearth.
Owl Art
Owls are adorable and they come in human sized decorations like these three metal owls on a tree branch. The artwork can be fastened to a tree or other solid surface. You can make it yours by visiting Plow and Hearth.
Mesmerizing Décor
The final choice that the fairies found for today is mesmerizing. It is a metal tree of life that has beautiful butterflies in it. It creates an optical illusion when it spins. It is small but, in a human-size way. It is available on Plow and Hearth.
The fairies hope you have enjoyed seeing these fairy-size and human-size items for your patio. They had a great time searching for these fun items to show you. The fairies would like you to keep exploring Teelie's Fairy Garden if you have the time.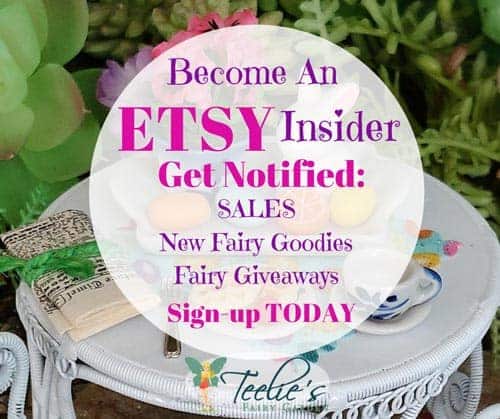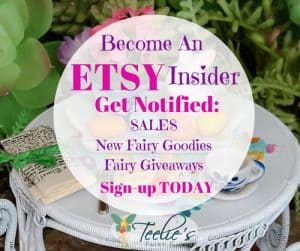 You can also sign up to be an Etsy insider and get notified by e-mail about fairy giveaways, goodies and sales. Sign up here.
Just a disclaimer – We have partnered with these companies because we use their products and/or proudly trust and endorse them – so we do receive a commission if you make a purchase or sign up for services. Often, we are able to negotiate special discounts and/or bonuses, which we will pass on to you via our links. We often get short notice on sale items available for 24-48 hours as we will pass these savings onto you.