Fall will start to color the leaves in fairy garden's soon: harvest season is upon us and everyone is anticipating the magical transformation of green leaves to the gold and russet ones. The Autumn fairies are starting to go about their work, having arrived from the Southern Hemisphere to bring the warm colors of Fall to fairy gardens everywhere.
Of course, our local fairies are happy to help them make it happen! Autumn is simply crackling with magic. It's when everything seems to be painted over with one big enchanted brush. The autumn harvest fruits need to be gathered to be used all around the kingdom too, and that means plenty of fresh, orange pumpkins! And everyone in the garden absolutely loves pumpkins and how they're one of the most enchanting symbols of the season.
Let's go find some pumpkin magic right now!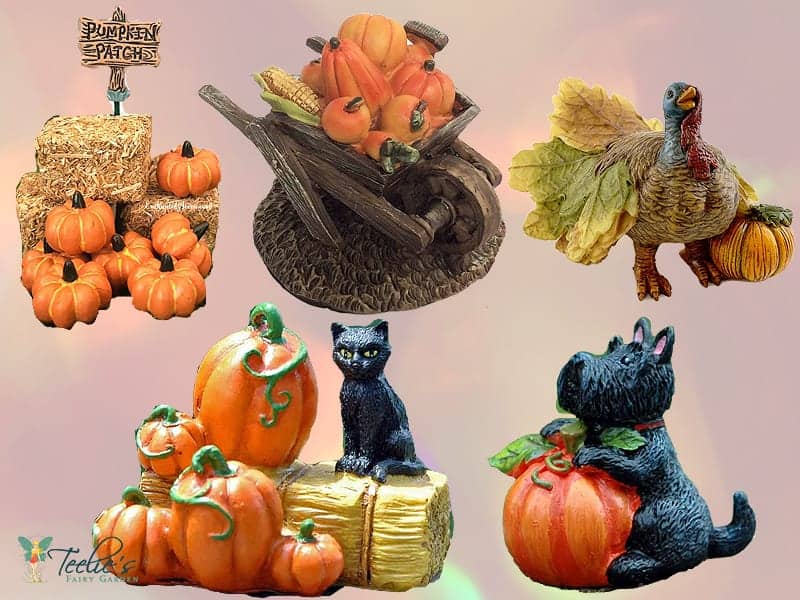 Heading to the pumpkin patches where many of the local fairies and autumn fairies are gathering, you'll know you're in the right spot when you see the big sign. Over bales of hay, you'll see a bunch of adorable pumpkins that have already been harvested and set out for any fairy to grab and bring home. There are so many uses for them after all! Get it at Etsy.
But for autumn fairies? Just a pumpkin or two is not enough. No, not when Fall is headed their way and the world needs to change its colors, and every one, human or fairy, are seeking out pumpkin treats and delights! One of the autumn fairies may be flying by, wheeling forward a big cart full of pumpkins, just like this one. They can be so useful for so many things; from food to magic! Get the cart at Amazon.
When you think of Fall, you start thinking of thanksgiving. Even the enchanted turkeys know that. They might look like your usual turkey, but if you look carefully, their great fan of tail feathers are colored and shaped like the autumn leaves. They're tucked away, hidden beneath the fallen leaves of the trees, and the fall fairies look after them as they're helpful critters when it comes to harvesting corn! See them at Etsy.
With Fall also come the thoughts of Halloween. Which means that even the Halloween fairies may be picking up their shipment of pumpkins to be turned into Halloween décor later on. They've probably sent their trusty familiars like this black cat to go around and inspect the harvest for this year, seeking out the best and biggest of the pumpkins for fairies and good witches to use. Get the cat at Etsy.
This little black dog is also doing his very best to help out. He's picked out the biggest pumpkin that he could find for his fairy owner. Although because he's so small itself, it might not seem that big. Still, he's working hard to add it on to the fairy's pile so that he can be helpful. He loves fall as much as any other dog, because the piles of leaves are just so nice to jump into! See him at Etsy.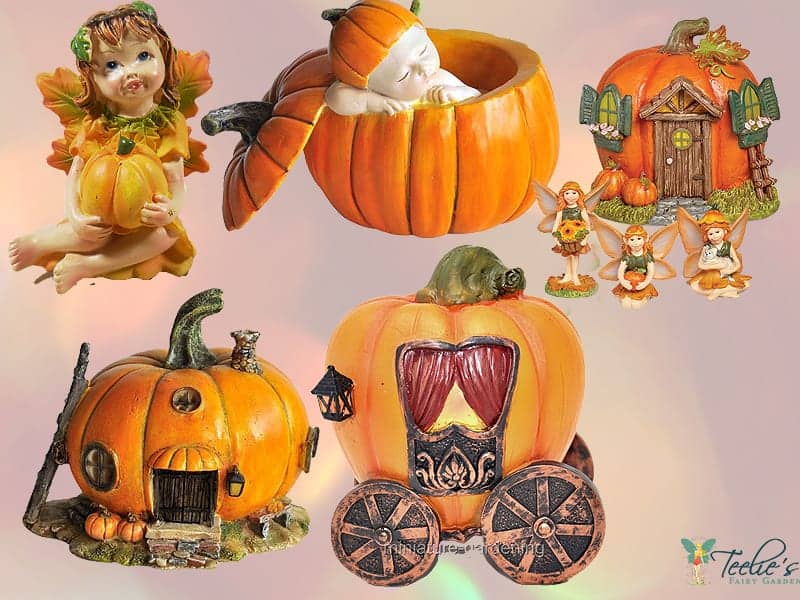 Harvest and Fall Fairies are some of the most beautiful fairies in the world. Take this magical lady for example. She has a pair of maple wings are slowly taking after the colors of autumn, and she's dressed in piles of golden leaves that still have that hint of summer green in them. She's also in the pumpkin patch, gathering up pumpkins for the season, and it looks like she's found a good one! Meet her at Etsy.
Some of the fairies, you might notice, are tiptoeing around a big pumpkin in the patch. A closer look will reveal a sweet secret: there's a fall fairy baby that's snoozing comfortably inside! The tiny tot has climbed into one of the big, hollowed out pumpkins and found himself so comfortable, surrounded by the sweet pumpkin smell, that he's dozed off. Best not to wake him—he'll have more excitement on the way in the coming days. Meet him at Amazon.
If you follow some of the Fall fairies home, you might spot another very clever use for pumpkins: they've turned them into a big cottage home! These fluttering fall fairies, with wings all the colors of the leaves, have turned this pumpkin into their own home. It's wonderfully cozy, with its own windows and flower boxes. Lighting candles inside must make the whole place smell like pumpkin pie! See the house at Amazon.
This is another pumpkin house, this time for what is probably a family of fairies given the size of the home. It nestles right in with the human sized pumpkins, so you'll have to look twice to make sure you see it! There's a little chimney sticking out the top right next to the pumpkin stem, and when it's lit during chilly autumn days, the house smells like sweet pumpkin pastries. Get it at Etsy.
Finally, there's the pumpkin that has featured in one of the most famous fairytales in all the land. It may have started out as a mere pumpkin in the orchard, but a flick of some fairy godmother's wand later and the pumpkin has turned into a splendid royal carriage, fit for a princess! The magic of fairies will make dreams come true for some lucky belle of the ball this fall! Get the carriage at Etsy.
Even more fall goodies and fairy friends can be found when you visit the Fairy Garden Amazon Store. Head over there now and find more magical marvels to add to a fairy garden!
Just a disclaimer – We have partnered with these companies because we use their products and/or proudly trust and endorse them – so we do receive a commission if you make a purchase or sign up for services. Often, we are able to negotiate special discounts and/or bonuses, which we will pass on to you via our links. We often get short notice on sale items available for 24-48 hours as we will pass these savings onto you.
Let us help you spread your magic to our thousands of fairy friends! We've got plenty of hardworking fairies who would be thrilled to bring your own magical products and services on board, recommending it to many new curious eyes from around the world. Advertise with us and open your shop or business to a whole new audience. You might even get featured on one of our weekly blogs!