Hello Fairy Lovers!
For this week's Fairy Scoop, I've put together a list of fairy garden kits that will make wonderful gifts come Mother's Day.
Whether your mom is fond of flowers or is more into vegetables and fruits, I am positive she'll appreciate any of these fairy garden kits as a gift. Gardening is therapeutic in itself but it's even more stress-busting when there are fantasy and magic involved! Don't you agree?
As always, all of the items featured in The Fairy Scoop are from Etsy. Some of them may even be from moms so don't hesitate to show your support by checking out their products and shops.
Links below the photo of each fairy garden kit.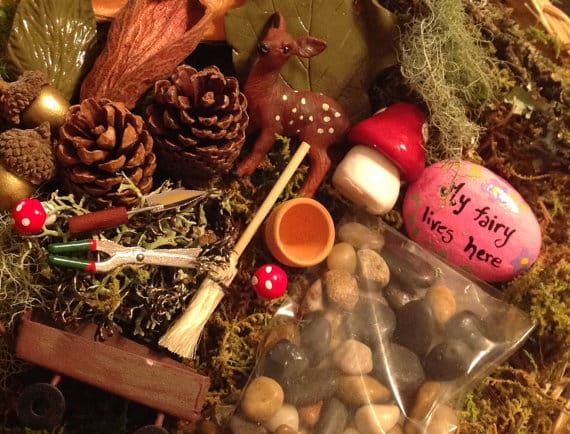 1. Fairy Magic Where She Sleeps
Bedside Fairy Garden Kit by OliveNatureFolklore
This kit contains fairy garden accessories made of natural materials, dominantly wood. Fairy string lights give it a romantic flair. Just imagine how beautiful this will look like when the lights go out! Everything comes in a box, complete with a fiber bow, making it a great gift!
2. A Wheelbarrow Fairy Garden
Complete Fairy Garden Kit with 'Radio Flyer' Wheelbarrow Container by LaNinkBoutique
Don't worry, they're not shipping a full-sized wheelbarrow to your mom's home on Mother's Day! The wheelbarrow is actually just 10 inches in length. But it sure does look adorable! It's 20% off when you buy another item too! So do check it out. Discount's until April 30 only.
3. An Enchanting Mother's Day Gift
The Dabbler Fairy Garden Kit by TheTwoAcorns
Give her a nicely-packed gift on that special day! I love how everything is laid out neatly and I'm sure your mom will like it too. This kit has a planter and a lot of fairy garden accessories included. Also, this ready-to-go fairy garden kit gift has one of the most gorgeous-looking fairies I've ever seen!
4. Creating a Fairy Nook
DIY Fairy Garden Globe by HavingABlockParty
She will enjoy creating this tiny nook that will fit a fairy or two. Fairies not included but if she puts her heart into making it, she might just lure some!
5. For the Beach Mom
Miniature Ocean Mermaid Fairy Garden Kit in a Box by TinkerTreasureMinis
If she's someone who loves a little fun in the sun, she'll adore this mermaid-themed fairy garden kit with playful blue glass chips, a seahorse, starfishes and a cute baby mermaid waiting for her fairy friend!
6. Perfect for Tiny Spaces
Deluxe Tea Cup Fairy Garden Kit by HavingABlockParty
What an adorable idea! Over 10 fairy garden accessories will be part of a 3 and a half inch teacup fairy garden. A matching saucer is also included in the kit. She can put this anywhere like on her office desk, the always-busy kitchen or anywhere she might need to relax.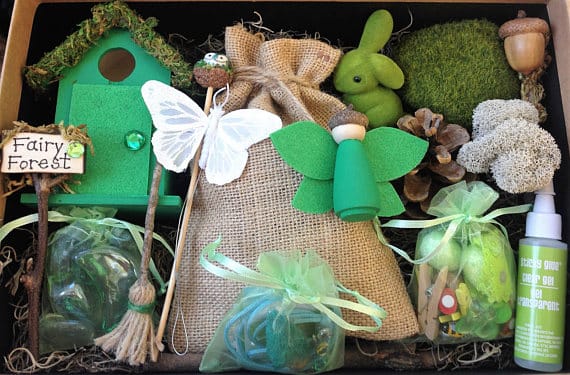 7. Styled to Mom's Taste
Create Your Own Fairy Garden Kit by Woodlandsunrise
15 fairy garden accessories come in an 8″ x 8″ wooden box with a burnt design that you can customize. According to the listing, each kit will be unique and will have surprise items included. You can also add a fairy to the kit!
8. Fairy Dust Blooms
Fairy House Kit by MeadowlarkBluebird
I love how all the fairy garden accessories in this kit come together! This is a pre-order but with Mother's Day still several weeks from now, you still have time. There's a special plant-able fairy dust included that will blossom with a bit of TLC in this fairy house kit!
9. For the Mommy Gardener
Fairy Garden in a Watering Can by oneredcanoe
The perfect gift for the true-blue gardening mom on Mother's Day is a watering can – a magical one! No water will be pouring out of this one. Instead, creativity and lots of imagination will be flowing out.
10. A Dose of Green
Fairy Garden Kit (Customized) by MyInnerSquirrel
This kit is a mix of miniature handmade fairy garden accessories and hand-gathered natural items that fit the scale. The result is just gorgeous! There are other colors available too if green isn't her favorite color. Click on the link above and check out her other fairy garden kits!
Like any of the DIY fairy garden kits featured in this scoop? Show us some love and share this with a friend! Don't forget to check us out at Etsy too! Lots of beautiful fairy garden sets and kits that are handmade and unique. See you next week!
Just a disclaimer – We have partnered with these companies because we use their products and/or proudly trust and endorse them – so we do receive a commission if you make a purchase or sign up for services. Often, we are able to negotiate special discounts and/or bonuses, which we will pass on to you via our links. We often get short notice on sale items available for 24-48 hours as we will pass these savings onto you.