Welcome back. We have some exciting news for you here in Fairy Land. Teelie's Fairy Garden is happy to announce that the Wee Folk are preparing to put together a magical cookbook. And, they need your help. They will soon be launching a call for recipes for their 'Magical Winter Wonderland Cookbook.' This will be a great opportunity to get cooks from hopefully around the world united in the pages of one amazing cookbook. We'll be sharing the information on our social media platforms and our website, so keep an eye out to find out how you can become part of this awesome project.
Since the Wee Folks are going to be creating their magical cookbook, they decided to share food related items with you today. You may even want to use some of them to create a delicious looking meal for your miniature friends in a dollhouse or fairy garden.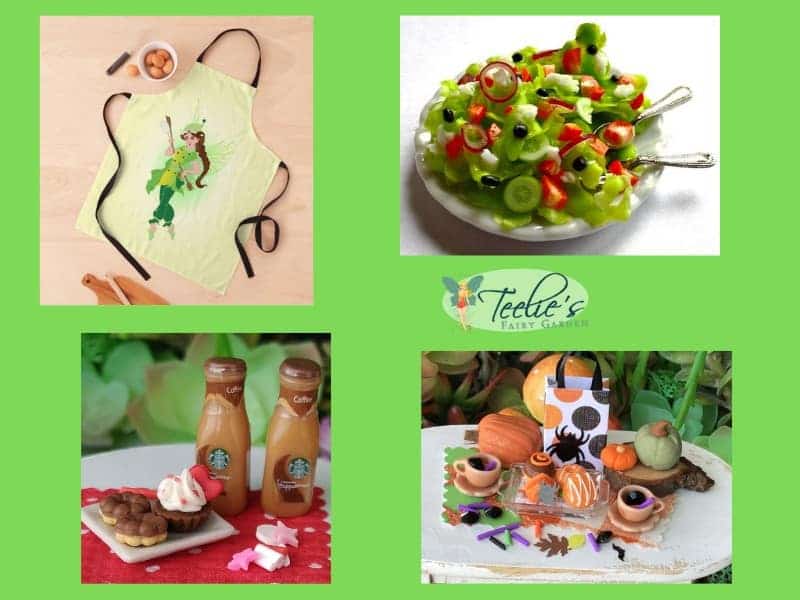 Get Cook'n With the Fairies
The fairies have created several amazing clubs. One of them is very kitchen orientated since it is the 'Get Cook'n With the Fairies Club'. However, as the fairies will explain in the special guide that you'll receive when you sign up, their aprons are great when it comes to gardening, painting and crafting too. We decided to show you an apron from Teelie Turner's Redbubble Collection that features Kitty the Kitchen Fairy. You can sign up for the 'Get Cook'n With the Fairies Club' here.  You have a chance to win an apron. One will be given away each month.
Here is a video featuring some of the amazing aprons in the Teelie Turner collection.
Superb Salads
Salads are a delicious meal choice or side. Did you know that there are also some delicious options for dessert salads? The fairies especially love these. They also like eating vegetable and fruit salads when the produce is picked fresh from their gardens. They decided to show you a delightful Greek salad that includes cheese and olives. Yummy. Find a replica on Etsy.
Coffee and Pastries
The fairies also love hot drinks and pastries. Most of them prefer hot cocoa to coffee but when they were offered a special blend that Starbucks created for them, they really enjoyed it. You'll find it and a delicious cupcake on Etsy.
Celebration Teas
The Fairy Kingdom enjoys hosting teas for every possible celebration. This includes Halloween. A Spooktacular teatime set up that includes tea, miniature doughnuts, and pumpkin décor is available for your enjoyment on Etsy.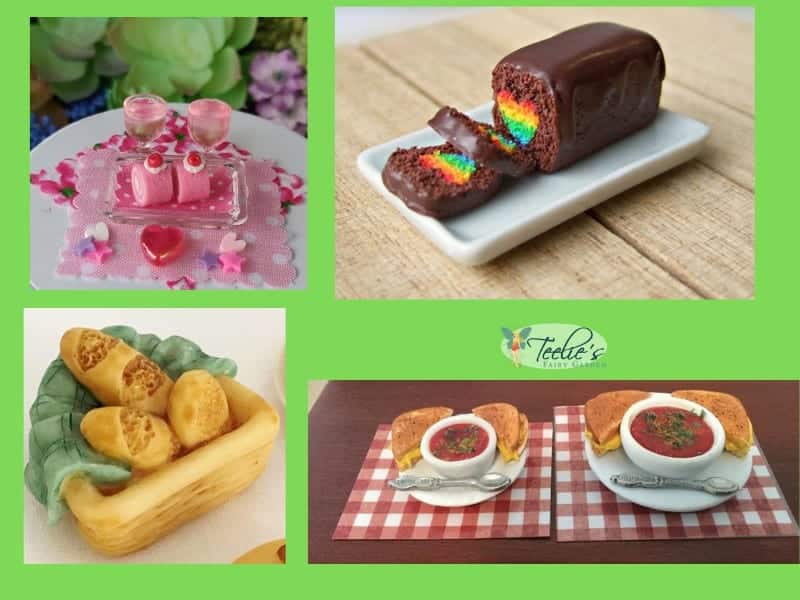 A Champagne Toast
Some celebrations are also best when they include a special champagne toast. Since pink is one of the colors often associated with romance, having a pink jelly roll as dessert to go along with the sparkly champagne seemed like a wonderful fit. Find your miniature treats on Etsy.
Magical Desserts
Fairy Land is all about magic and this also translates into the selection of desserts that are served at parties and in the bakery. We decided to share a special chocolate loaf with you that has a rainbow heart in the center when it is cut into. It is available on Etsy.
Fresh Baked Bread
The aroma of fresh baked bread in a kitchen is delightful. Fairies love this scent too and experiencing it is one of their many enjoyments when they go to the Fairy Land Bakery. You can offer your fairy and wee folk friends bread in your garden or dollhouse. Find it on Etsy.
Comfort Food
The wee folk love tasting comfort food as much as humans do. For many in the human world that is tomato group with a grilled cheese. The wee folk agree with this tasty choice. There is even a miniature size set available for a fairy garden or dollhouse that includes a placemat. It can be found on Etsy.
Here is another video featuring some delightful fairy treats. Enjoy.
Thank you for coming on this culinary adventure with us. Be sure to visit Teelie's Fairy Garden again soon for more information on how you can send the Wee Folk your recipes. They can't wait to begin receiving your favorites for their Magical Winter Wonderland Cookbook.
Update: Details on providing your recipes are available in the video below. Send an e-mail to ideas@prtfg.com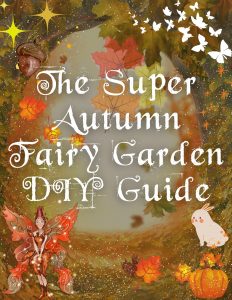 The fairies would also like to invite you to discover their Super Autumn DIY Fairy Guide with fairy gardening ideas on the themes of autumn, Halloween and Thanksgiving Find it here.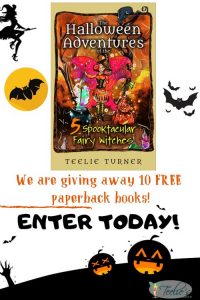 Discover our amazing Halloween book: The Halloween Adventures of the 5 Spooktacular Witches. Find it here.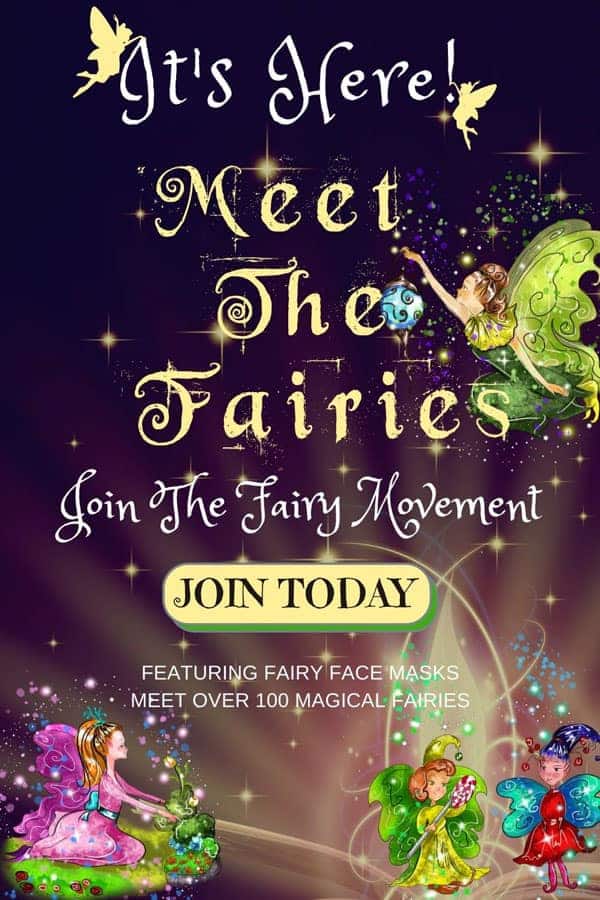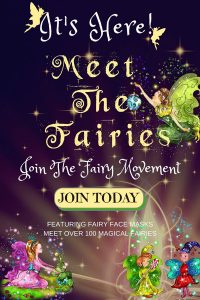 Sign up to get a free copy of the Meet the Fairies catalogue / book. It's an enchanted opportunity to get better acquainted with over a hundred incredible fairies.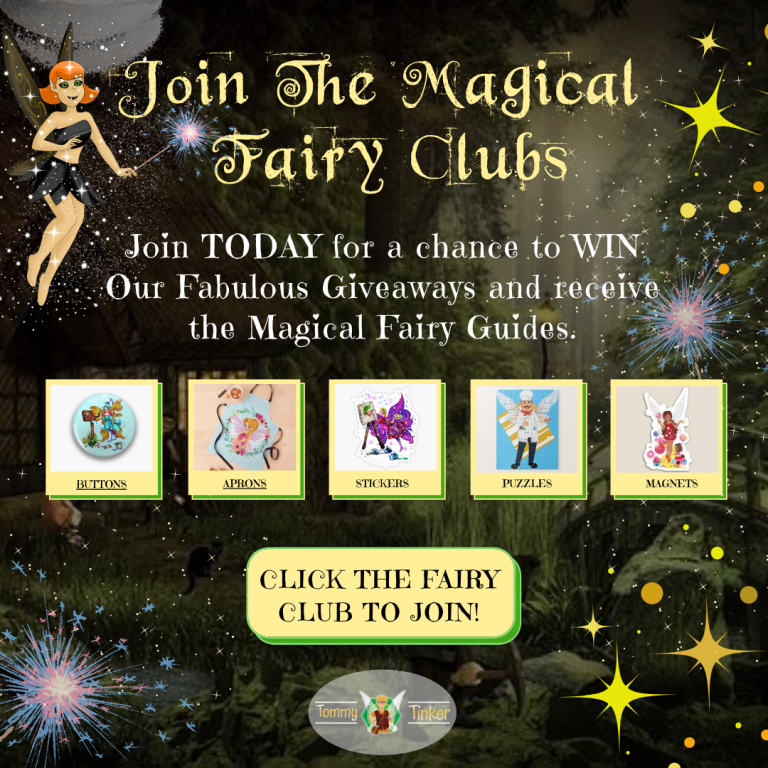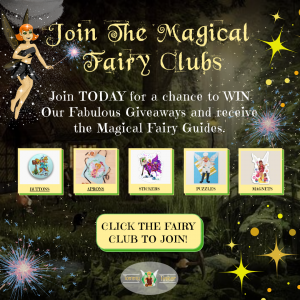 The Fairies have started several magical fairy collector's clubs. Learn more about them here. All our clubs come  with intriguing downloads and chances to win wonderful prizes. Sign up here.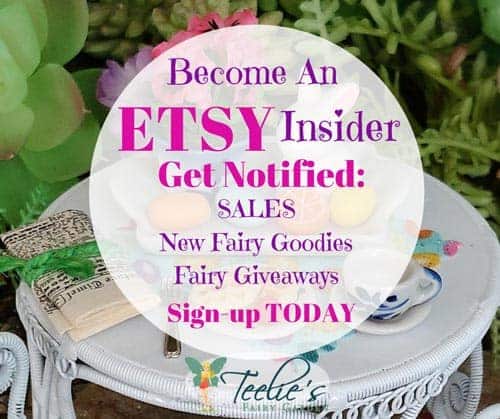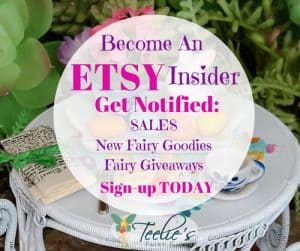 You can also sign up to be an Etsy insider and get notified by e-mail about fairy giveaways, goodies, and sales. Sign up here.
Just a disclaimer – We have partnered with these companies because we use their products and/or proudly trust and endorse them – so we do receive a commission if you make a purchase or sign up for services. Often, we are able to negotiate special discounts and/or bonuses, which we will pass on to you via our links. We often get short notice on sale items available for 24-48 hours as we will pass these savings onto you.