Hello Friends of the Wee Folk. Are you ready for another great week here in Teelie's Fairy Garden? It is sure to be a busy one because five new fairy books are set to be released and the Wee Folk couldn't be more excited. Over the next few weeks, we'll be introducing you to all the new releases. Today, we're going to be looking at Teelie Turner's book The Halloween Adventures of the 5 Spooktacular Witches. This book contains five stories about five incredible fairy witches at Halloween. Each of these lovely fairies will be showing you a piece or two from their collection of merchandise so that you can get to know them better.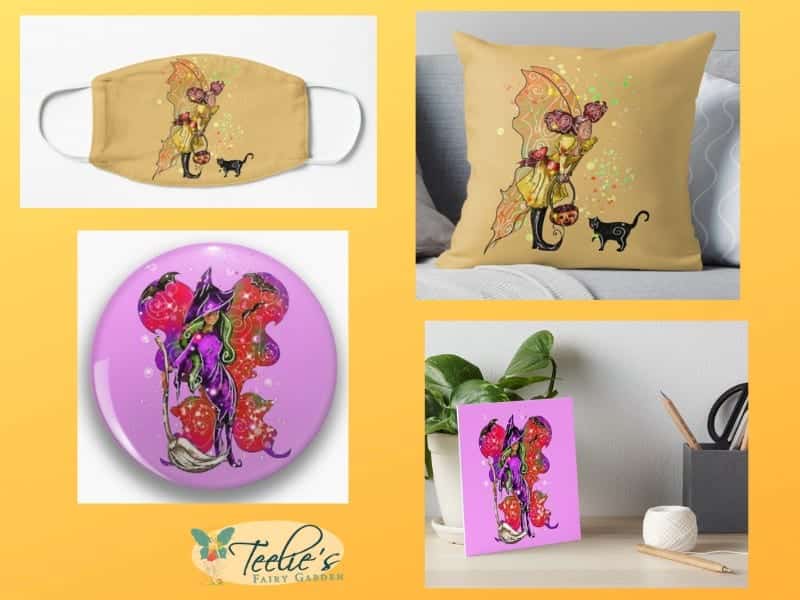 Stylish Fairy Masks
Hello friends, I'm Trixie-Love the Trick or Treat Fairy. You'll find me and my black cat Midnight around Fairy Land spreading magic throughout the year, but we're more prominent at Halloween. This year we added some stylish fairy masks to our collection of merchandise. You can find several different styles on Redbubble. We have child, teen, and adult sizes available. All my fairy friends have some in their collection so you can choose the colors and themes that fit your personality. We have some for all holidays.
Comfortable Halloween Pillow
I also have comfortable pillows that can add some festive feelings to any room. You can find them on Redbubble as the cover, or the cover and the insert. Wander through my collection of merchandise to see everything that I have available. You won't be disappointed. You might also be interested in having a look at this article on the 5 Spooktacular Witches' Office Supplies.
Magical Buttons
Welcome friends, I'm Courtney and I'm a Seamstress Fairy. I love sewing and I'm so grateful that I can help make dreams come true with my skills. At Halloween,  one of my busiest tasks is helping to put together magical and original Halloween costumes. You can see a picture of me on a magical fairy button. It is available on Redbubble. You might also be interested in joining the Magical Fairy Button Club. It comes with free sign-up goodies and a chance to win a button each week.  Sign up here. 
Fantastic Artwork
I am also featured on a stunning collection of artwork. If you visit Redbubble, you'll have the chance to see all my merchandise. I decided to show you my art board print.  Art and fashion are two forms of magic that I'm so glad I can share with you today.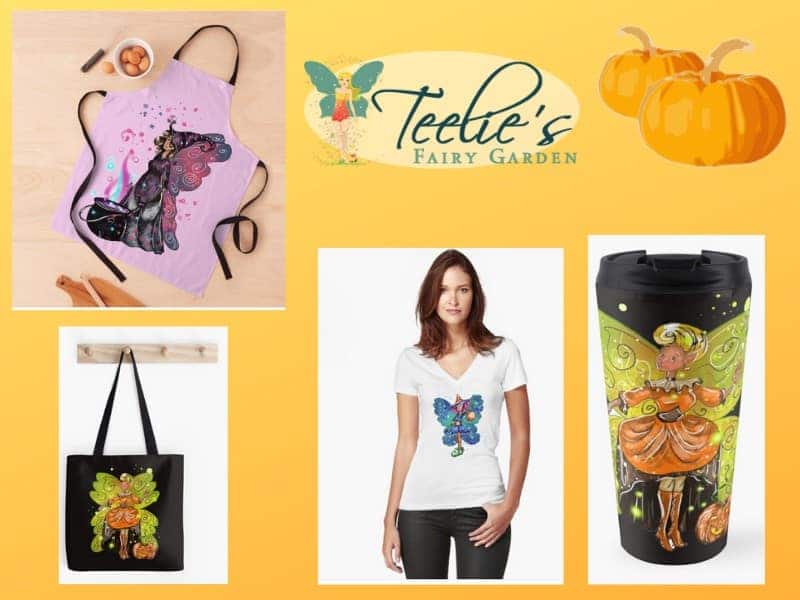 Magical Fairy Aprons
Welcome to Fairy Land. I'm Chef Gardenia and at Halloween I'm responsible for cooking up all sorts of tasty treats. That's why I thought it was fitting to show you a picture of myself on an apron. I wear one almost all the time. And, these aprons are not only great in the kitchen, but they can be used when it comes to gardening, painting, and crafting. If you're going to be carving pumpkins, you could also wear an apron to protect your clothing. Find my apron on Redbubble. My friends and I are pleased to let you know that we have created the 'Get Cook'n with the Fairies Club.' We'll be giving away one apron per month and when you sign up you receive some fun free downloadable gifts. Sign up here. 
Learn more about this magical club in our video.
Cute Travel Mugs
I'm Hallie and I own an incredible holiday store. My birthday is on Halloween and it is my favorite holiday. I have lots of cute merchandise in my store including an assortment of holiday mugs. You can find a mug with my photo on it, on Redbubble.
Multipurpose Tote Bag
I'm also featuring on a tote bag. I love how versatile these bags are. They're great for shopping, holding craft supplies and children can even use them for trick-or-treating. Find my tote bag on Redbubble. A few models are available.
Magical Fairy Clothing
I'm Issy and I'm the last of the 5 Spooktacular Witches to introduce myself today. I'm a party fairy and that means I love to plan fun activities and make sure that my guests have a great time. Party wear doesn't have to be uncomfortable. There are lots of casual outfits and costumes that look great, including a fitted V-neck t-shirt that has my picture on it. Find all the clothing in my collection on Redbubble.
Thank you for joining us. We're so glad that we got to show you some of our merchandise. We hope that you have a safe and Happy Halloween. Have a look below at all the exciting things that are happening in Teelie's Fairy Garden.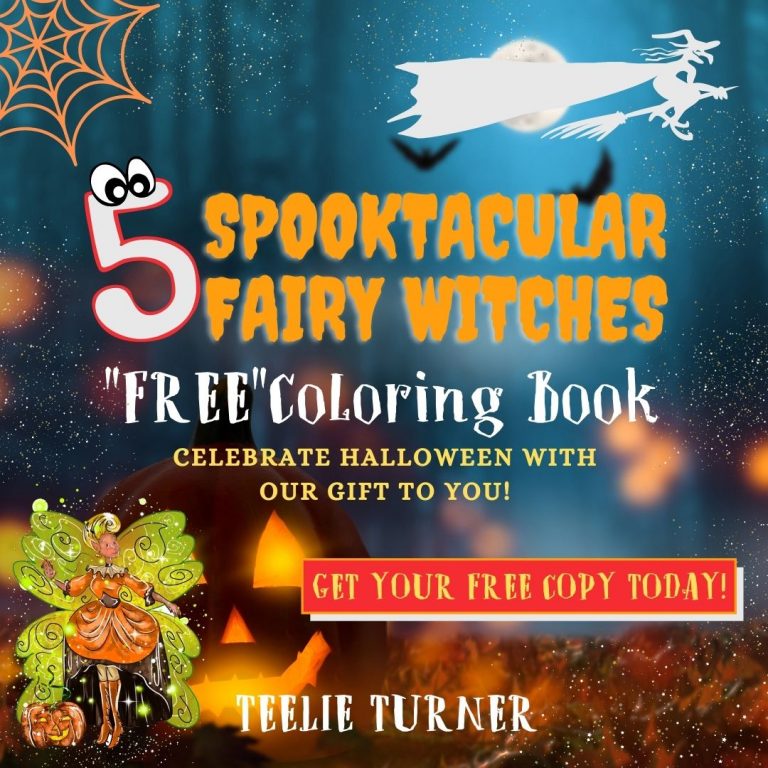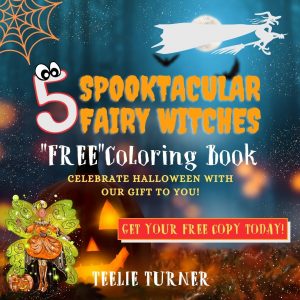 Sign up to receive a copy of our free 5 Spooktacular Witches Coloring Book.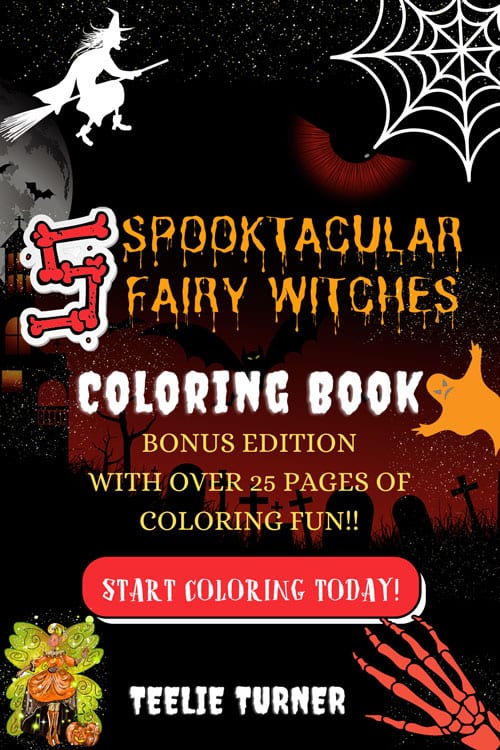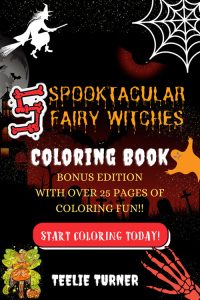 You can also find our bonus edition of the 5 Spooktacular Witches Coloring Book on Amazon. 
The Wee Folk are also launching a magical cookbook. Watch our video to learn more and send your recipes to ideas@prtfg.com Let's see how international the Wee Folks can make this special community project.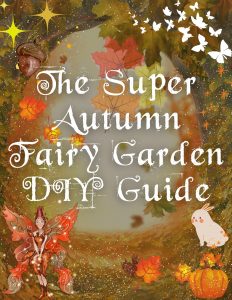 The fairies would also like to invite you to discover their Super Autumn DIY Fairy Guide with fairy gardening ideas on the themes of autumn, Halloween and Thanksgiving. Find it here.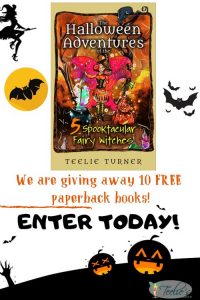 Discover our amazing Halloween book: The Halloween Adventures of the 5 Spooktacular Witches. Find it here.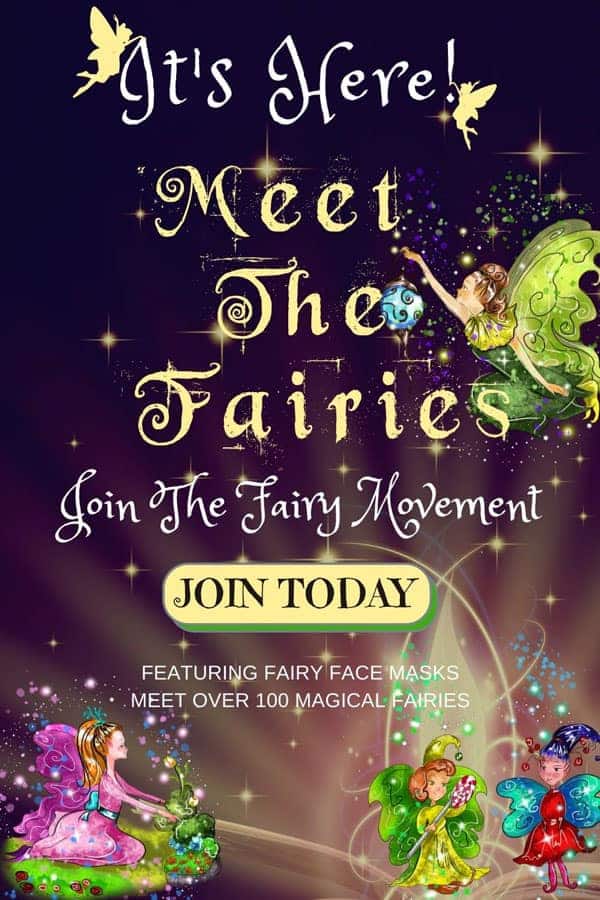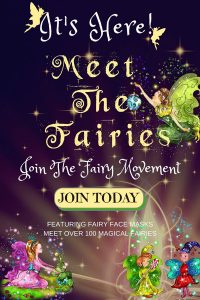 Sign up to get a copy of the Meet the Fairies catalogue / book. It's an enchanted opportunity to get better acquainted with over a hundred incredible fairies.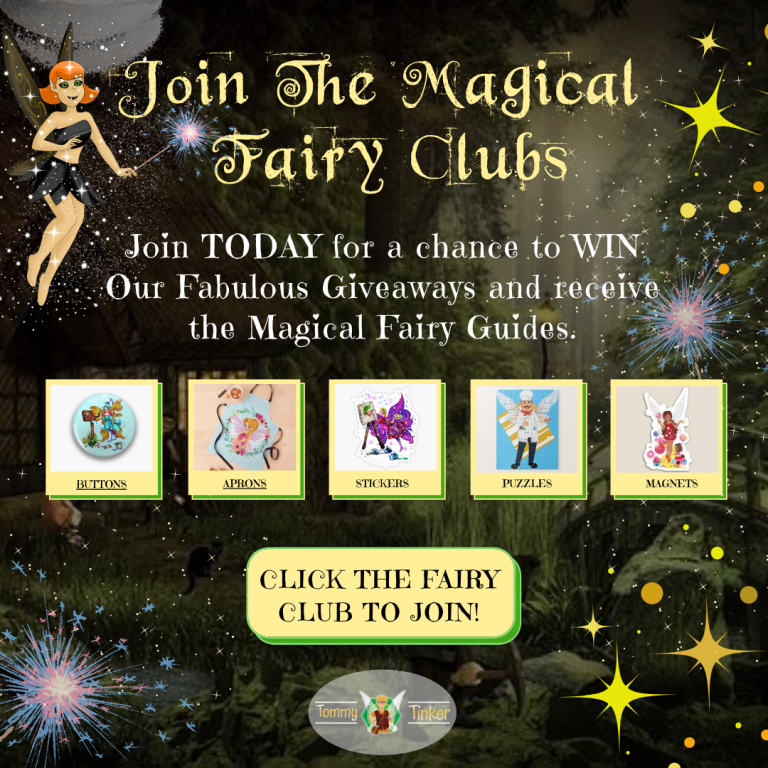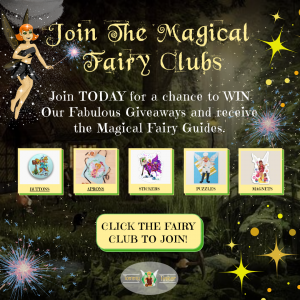 The Fairies have started several magical fairy collector's clubs. Learn more about them here. All our clubs come with intriguing downloads and chances to win wonderful prizes.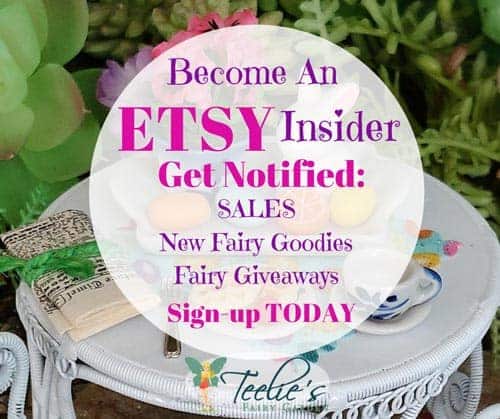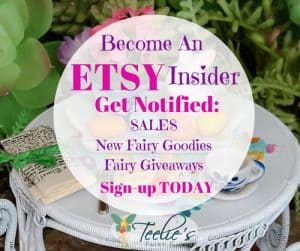 You can also sign up to be an Etsy insider and get notified by e-mail about fairy giveaways, goodies, and sales. Sign up here. 
Just a disclaimer – We have partnered with these companies because we use their products and/or proudly trust and endorse them – so we do receive a commission if you make a purchase or sign up for services. Often, we are able to negotiate special discounts and/or bonuses, which we will pass on to you via our links. We often get short notice on sale items available for 24-48 hours as we will pass these savings onto you.